Skip Navigation
Website Accessibility
Journey Embroidery Enhancement Bundle
Start your Embroidery Adventure with the Baby Lock Journey for only $5999
SAVE $2000 and Receive a $2000 Embroidery Enhancement Package Free!
Journey MSRP $7999.95
Package includes
Embroidery Laser Foot $139.95
In order to ensure your embroidery design is correctly placed, the laser foot will shine a beam of light on your garment while tracing an outline of the design. The design can then be moved, rotated, or resized to give you the exact look you want to achieve.
Embroidery Works Everyday $499.95
The computer software compatible for both Apple and Microsoft operating systems allows you to view, modify, and combine embroidery designs. It also has several built-in fonts that you can use to combine with any embroidery design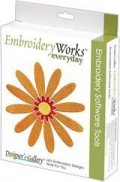 2-Spool Thread Stand $129.95
The 2-spool thread stand makes it possible to sew or embroidery with extra-large spools of thread. It easily snaps on and of, and can accommodate spools of thread with a base diameter up to 4 inches.
4-Year Love of Knowledge Membership $1,499.00
Experience four years of on-demand video lessons and tutorials directly from the Baby Lock Education department for your Baby Lock Aventura II. Access to the video lessons from all other Baby Lock machines are also provided if you already own another Baby Lock product, or plan to in the future.